Shop 'Til You Drop
Mansfield Mother's Club 2017 Fundraising Event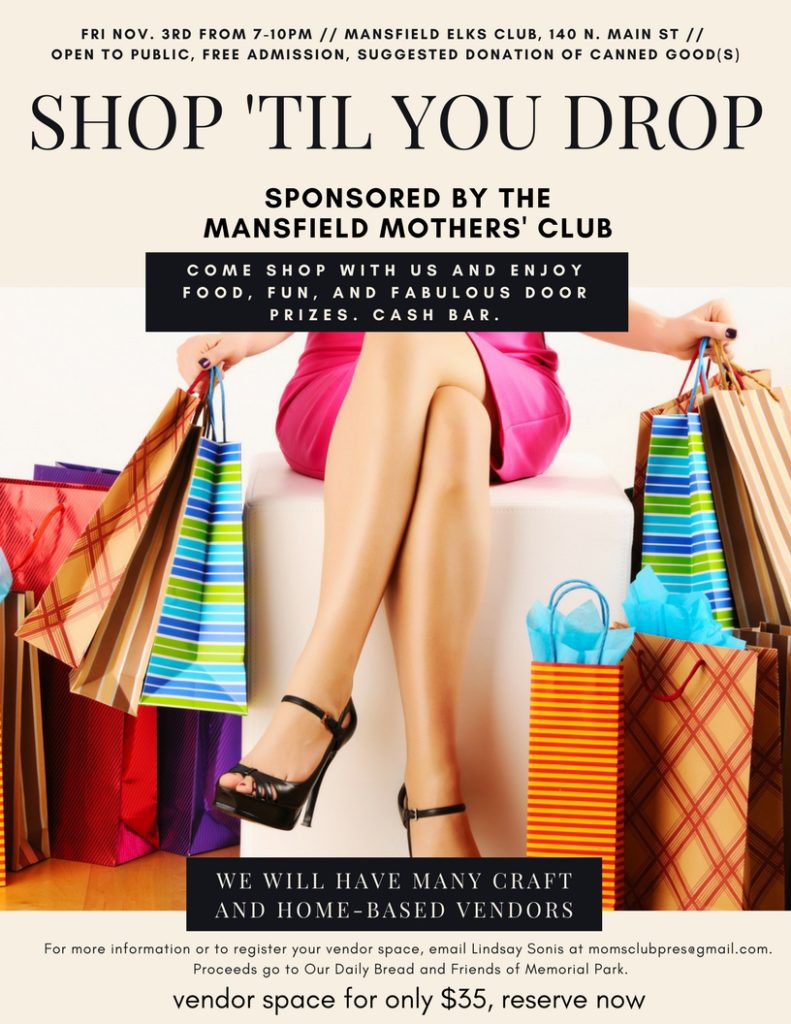 It's that time of year again! Our fundraiser, Shop Til You Drop will be held on Friday, November 3rd from 7-10pm at the Mansfield Elks Club.
Shop Til You Drop is a fundraiser benefiting Our Daily Bread, Mansfield's food pantry and Friends of Memorial Park.  Our proceeds from the night's events will go directly to Our Daily Bread Food Pantry and Friends of Memorial Park.
"Our Daily Bread" provides food to local families in need.  They are an all-volunteer run organization, and rely on the generous support of local businesses and residents for both food and cash donations to keep the pantry operating smoothly. To find out more information about this wonderful organization, please visit mansfieldfoodpantry.org
Friends of Memorial Park is a group of parents who have a vision for a better Memorial Park. With the start of a new playground, Friends has a vision of future changes and additions to the park to accommodate all residents of Mansfield. Visit https://www.memorialpark02048.com/ for more information.
Shop Til You Drop is a shopping event where home based and local business vendors get together in one place and sell their fabulous products. This is a great opportunity to do all your holiday shopping under one roof and in one night!
The event is open to the public and admission is an optional donation of non-perishable grocery items. It is a great night out with friends and a wonderful way to show your support to a fabulous charity.